For years, three dedicated Australian artists, with the support of Sheila Foundation, have been quietly working to change the face of Australian contemporary art in ways no-one has been able to before.
These artists – Elvis Richardson, Amy Prcevich and Miranda Samuels – are 'The Countesses', and their motto is "Women count in the art world". They collect data every four years to produce a scorecard of gender parity in Australian contemporary art. The first count in 2014 (released in 2016) provided evidence of the stark reality for Australian contemporary artists, with women suffering gender imbalance in nine out of 10 key areas even though over 70% of visual arts graduates are women.
Backed by Sheila, the Countesses have completed the second count (based on 2018 data). It is exciting that The Countess Report 2019 shows a pace of change in many areas that deserves celebration.
The Report provides evidence that since 2014 the independent sectors – including public, commercial and university galleries, artist-run spaces and art organisations – have achieved impressive gains in gender equity.
Highlights include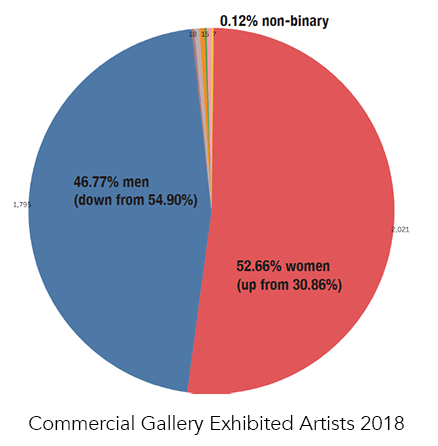 Commercial galleries have exhibited 53% women (up from 39%), and 43% of represented artists are women (up from 39%);
Women are equally represented (50% or higher) in the following categories: art prizes, contemporary art organisations, boards and executive staff, and artist-run spaces;
Artist-run spaces have exhibited 61.38% women (up from 49.37%), 34.78% men, and 2% non-binary artists.
Unfortunately it is the large state and national galleries that are still lagging: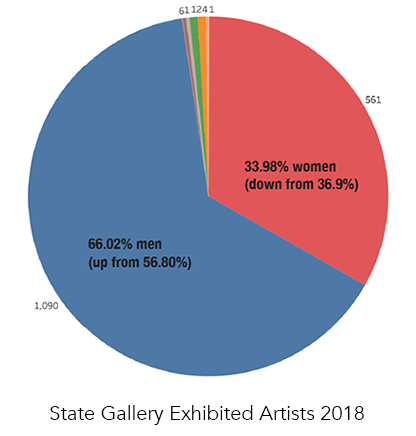 State-owned galleries have exhibited 33.98% women (down from 36.90%) and 66.02% men (up from 56.80%), with no data available on non-binary artists;
Director or CEO-level roles are held by 27% women and 73% men overall, while among state-owned galleries, the figures are 12.50% women and 87.50% men.
The impressive results show the power of small visionary organisations like The Countess Report and Sheila Foundation to effect significant nationwide change. Having the stark and disappointing evidence from The Countess Report 2014 so clearly presented and publicly available has been a prime catalyst for change. It has allowed Sheila Foundation and others to back up their advocacy and programs with evidence-based data.
As noted by Esther Anatolitis, Executive Director of the National Association for the Visual Arts, "The hard work of the Countess has become indispensable to the gender conversation for the Australian visual arts sector".
More information: