In this section we profile West Australian artist Carol Rudyard who recently passed away. One of her important works, Untitled 1970, is held by the Cruthers Collection of Women's Art at The University of Western Australia, and is currently included in the exhibition Matter at Lawrence Wilson Art Gallery.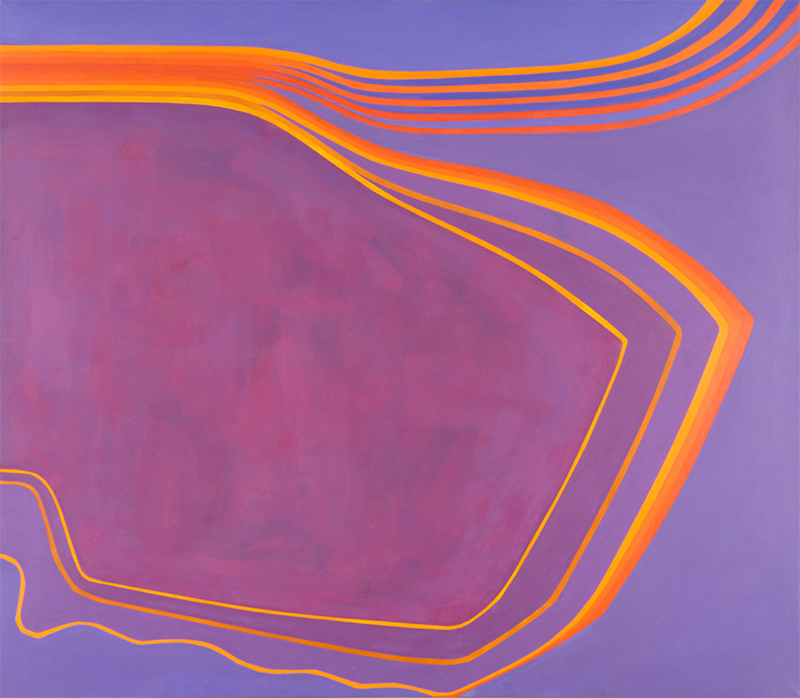 Carol Rudyard, Untitled 1970, acrylic on canvas, 155.5 x 178 cm © Estate of the artist. Used with permission.
The inspiration for this painting was the lines made by receding water in a salt lake, observed by the artist from a light aircraft flying over the Kimberley region of Western Australia. The trip had a profound influence on Carol: her son Tim remembers her talking about it often, even in the last years of her life. It began as a pencil sketch, which back in the studio was worked up to a study in acrylic on canvas, before proceeding to the full scale version now in the Cruthers Collection and on show in the exhibition Matter, at the Lawrence Wilson Art Gallery, The University of Western Australia.
The striking and elegant result is testament to Carol's working practice, based on observation but filtered through a process of refinement and distillation to reach the best possible visual outcome. It was completed towards the end of her studies for an Associate Diploma of Fine Art at the Western Australian Institute of Technology in 1968-70, over a period during which hard edge colourfield painting was becoming the dominant style of avant-garde contemporary art in Australia. Her take on it was idiosyncratic and personal, using non-naturalistic colours which still evoke a strong sense of the original locale. As David Forrest has written, her work of this period was "characterised by tight control, elegant structure and, to quote Carol herself, 'colour divorced from direct experience…very close to music'".
While hard edge colourfield painting had relatively little impact on the Western Australian art scene, it's interesting that in Carol Rudyard and Miriam Stannage we have two of its finest exponents. In the first iteration of the exhibition Know My Name at the National Gallery of Australia in June 2020, their two works were among the most impressive paintings by Australian women working in this style.
Carol Rudyard: 22 November 1922 – 16 May 2021
By David Forrest
Carol Rudyard was one of Western Australia's most important, ground-breaking and influential artists of the last 60 years. The only Western Australian artist to have been awarded an Australian Artists Creative Fellowship ("a Keating") in 1994, she was awarded an honorary Doctor of Letters from Curtin University in 1999 and made a Living Treasure of the State of Western Australia in 2004. Although she came to art relatively late in life, her work is held in all state collections and the National Gallery of Australia.
Carol was born in England in 1922. She left Sheffield in 1947 with her husband, a doctor employed by the British Government, and lived on the Gilbert and Ellice Islands (British colonies in the Pacific). They arrived in Western Australia in 1950 and lived in Mullewa and Southern Cross, before settling in the Perth suburb of Leederville in 1956. Once in Perth she immersed herself in the visual arts, beginning by designing textiles, quickly achieving both commercial and artistic success. She also painted watercolours and won the Festival of Perth Poster Prize in 1964.
Rudyard enrolled in an Associate Diploma in Art at the West Australian Institute of Technology from 1968-1970. She was awarded the Mundaring Art Prize in 1970 by Guy Grey-Smith for a large work of swirling red hot oranges and reds titled Orphean. A year later, she began teaching at WAIT but, determined she had to experience Renaissance art first hand if she was to continue to reference it in her teaching and art practice, at her own expense she travelled through northern Italy in 1972. Returning she held her first solo exhibition in 1973 at the Old Fire Station Gallery, Perth.
Her works of this period were meticulous, minimalist and elegant hard-edged paintings and textiles. Gravitation 1973, Progression 1973 and an untitled diptych from 1977 are prime examples of her mastery of these art forms, characterised by tight control, elegant structure and 'colour divorced from direct experience…very close to music'.
After completing a postgraduate diploma in visual art at Curtin University in 1981, she abandoned painting to explore new media, first in slides and sound and later in video with installation. In these works she rigorously analysed the structural nature of the medium in keeping with the best conceptual art traditions, while bringing a rich poetic and often erotic content to their form.
Like most of Rudyard's subsequent works, her every day and domestic world is transformed into a rich tapestry of minutely observed qualities which then unfold and connect her solitary life to the world outside her window. Through a complex network of cultural connections, she takes us on a journey from the intimate and ordinary to visions of connectivity and association.