Erica McGilchrist was an artist as well as a dancer, designer, curator, teacher, activist, feminist and humanist. She was born in Mount Gambier, South Australia to Stevenson George McGilchrist, a school headmaster, and Jean Leslie, n e Mitton. She was encouraged to engage in creative activities from childhood. In all her roles McGilchrist was concerned with humanity and its welfare. In a conversation with Linda Short before her death in 2014 she confided that she hoped 'to be remembered as an activist as much as an artist'.
McGilchrist undertook art classes from the age of 10 at SA School of Arts and Crafts, continuing to study there part-time until 1946. From 1945–46 she studied at the Adelaide Teachers College and obtained an Art Teacher's Certificate. From 1946 onwards she taught art in Adelaide and Melbourne. Prior to her artistic career McGilchrist was a dancer with Les Ballets Contemporains in Adelaide. She also choreographed dances and designed sets for the company and learnt the company's new contemporary style of dance. In 1948 she moved to Melbourne and joined Elizabet Weiner's Modern Dance Company.
In 1951 she held her first solo art exhibition at Melbourne's Book Club Gallery, and from the following year to 1955 studied art part-time at Melbourne Technical College. In 1953 she was commissioned by the Ballet Guild to work on a production and in the same year was employed, as part of the reform of psychiatric facilities in Victoria by Dr Eric Cunningham Dax, as an instructor for the first art therapy group for patients at the Kew Hospital in Melbourne. From 1960–61, after being awarded a scholarship from the German Academic Exchange Service and a grant from the Art Gallery of NSW's Dyason Bequest, she pursued postgraduate work at the Academy of Fine Arts, Munich, Germany. Her time in Germany significantly influenced her practice and moved her to create a large body of work which demonstrated her intense experience in post-Holocaust German society. As her husband and close friends had been directly impacted by the Holocaust as Polish and European Jews, her experience was deeply personal. She was also commissioned to make graphic design artworks during this time. When she returned to Australia in 1963, she continued to work in the graphic arts, as an illustrator and designing stamps for the Postmaster- General's Department (now Australia Post).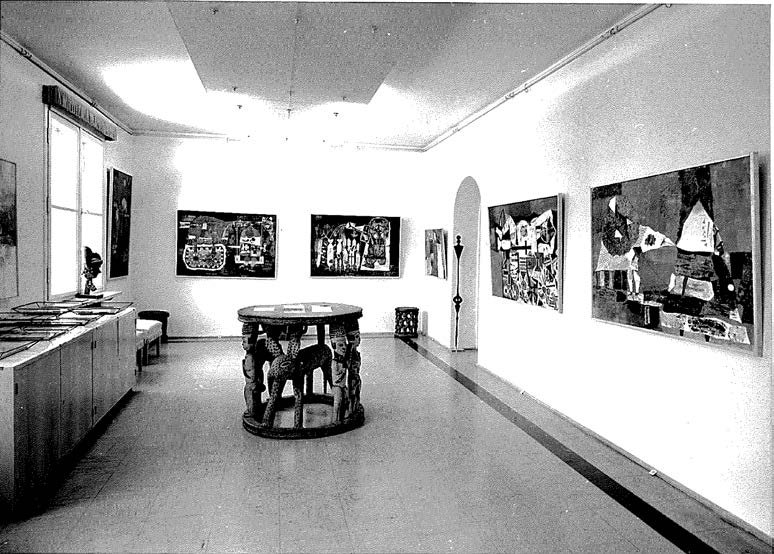 Erica McGilchrist's solo exhibition, Galerie Wolfgang Gurlitt, Munich, Germany, 1963. Courtesy Erica McGilchrist Archive, Heide Museum of Modern Art, Melbourne, Gift of Erica McGilchrist 2013.
Her exhibition history is large and impressive. McGilchrist held over 30 solo exhibitions, including large retrospective exhibitions, and has been part of over 100 group exhibitions. Her work has been exhibited in Australia, Germany and London.
She was awarded the 1958 Helena Rubinstein Mural Prize for a major public work for her mural in the dining room of the Women's College at the University of Melbourne. From 1968–69 she designed sets and costumes for the Australian Ballet and in 1979 the Victorian Minister of Transport and Ministry for the Arts invited her to paint a city tram. She ran a painting school for adults from 1964–1977 and also continued tutoring at tertiary institutions until 1988.
She was on the Victorian Institute of Colleges Academic Committee in Art and Design in 1977 and joined an organisation that became the Art Workers Union in 1979. She also helped to establish the Caulfield Environment Protection Society in 1972 and in 1975 she co-founded the Women's Art Register in Melbourne, working as its voluntary coordinator from 1978–1986. In 1992 she was awarded theOrder of Australia Medal for her 'many contributions to the Women's Rights Movement and visual culture in Australia'.
Her work is held in private and public collections around Australia and overseas including the Cruthers Collection of Women's Art and Heide Museum of Modern Art, Victoria which holds an extensive collection of her work including artworks and her professional and personal papers.
Stylistically McGilchrist 'never belonged in a formal sense to one movement or kind of art, switching easily between styles and mediums.' She supported herself through teaching and design work rather than through the art market 'in order to paint with integrity and "live left"'. Her painting Specialist with hobby 1962 is a pointed work about the Cuban missile crisis which brings together an exploration of the 'origins of war and the relation of military aggression to state, church and capital'6 and her ability to transform 'her rage via artmaking'. The work is heavily symbolic and part of her major series Uncharitable Quartet, which was made in response to her years in Germany.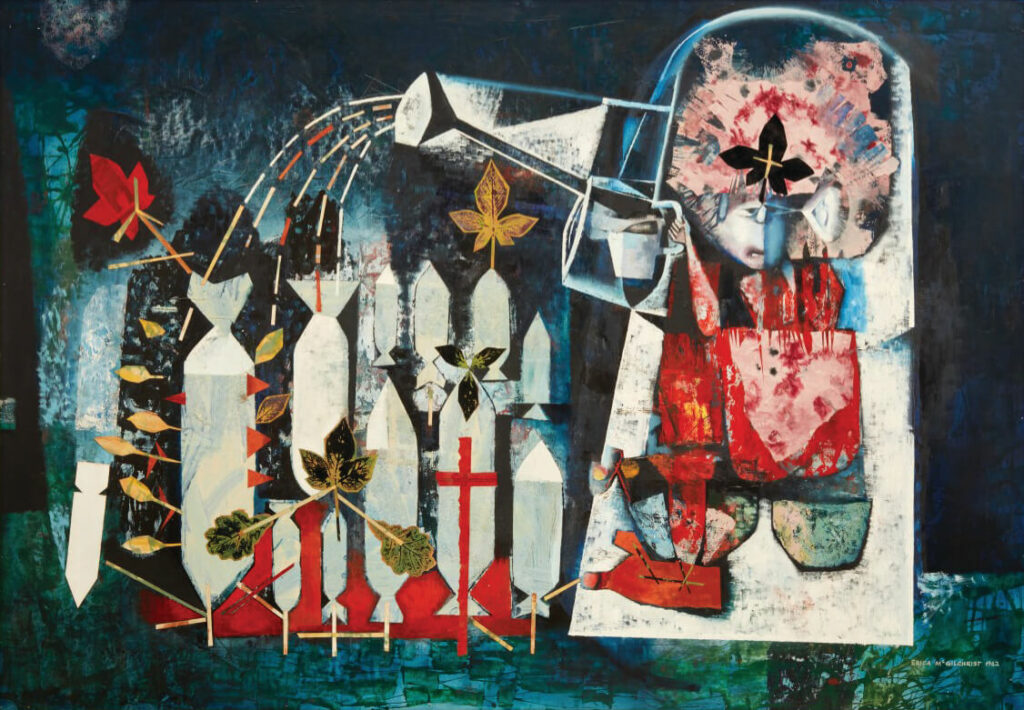 Erica McGilchrist, Specialist with hobby 1962, oil and collage on paper on hardboard, 92 x 129 cm. Into the Light Collection, Sheila Foundation.
In the work the Catholic church, nature and nuclear warfare are woven together in an imaginary missile garden watered by a person dressed in Catholic cardinal garb. The symbolic oak, maple and elm tree leaves overlaid at times with religious crosses can be tied to America. As John F. Kennedy was a Catholic and the Cuban Revolution saw the Catholic church proclaimed by Castro as the 'fifth column of counterrevolution', the use of Catholic references and religious crosses is a statement on the role of religion in the crisis and the events which lead up to it.
It is clear that McGilchrist was well informed on the crisis and the multitude of issues connected to it in order to create this impactful, playful work. In McGilchrist's own words, from her essay For the Record, 1985, 'There can be no holistic view of history – or of art – if the perspectives of women are omitted.' It is crucial that Erica McGilchrist herself does not become omitted from the history of Australian art. Her perspective and impact on women's art and Australia's history are tremendously significant.