By Julia Anderson, Sidonie Hall-Jordan, Sunday Jemmott, Michael Louttit, Samantha Wallis and Louise R Mayhew 
In 2019, students at the Queensland College of Art (QCA), Griffith University stormed Wikipedia with new knowledge and new words on women artists. As part of the six-week intensive course, 2431QCA Art, Gender, Sexuality & the Body, they spent a trimester learning about gender in/equality in the artworld.
Using their research and writing skills for affirmative action, they wrote new and expanded Wikipedia articles on Australian women artists drawn from the Cruthers Collection. The following interview brings together the Course Convenor, Dr Louise R Mayhew, and five of the participating students Julia Anderson, Sidonie Hall-Jordan, Sunday Jemmott, Michael Louttit and Samantha Wallis, for their reflections on ditching the traditional essay-format in favour of the Activist Essay.
Tell us about Art, Gender, Sexuality & the Body.
Sunday: Art, Gender, Sexuality & the Body was designed by Professor Susan Best.
The course's aim is to broaden our perspectives on art history's canon while also enlightening us to the gender inequalities present. We began with an introduction to 20th century Western Art practices concerning gender, sexuality and the body such as Postminimalism, Performance Art, Queer Art and Relational Aesthetics. We focused our discussions on how different artistic strategies were used, and engaged in debates concerning gender, subjectivity and sexuality. We used individual practices and theorists to engage with bigger picture discussions about identity, power structures and feminism/s.
Why did you enrol?
Julia: I undertook this course to better understand how notions of "self", in terms of gender, sexuality and the body, shape my artistic practice. I wanted to explore the reflexivity between practice and identity—how these two feed into one another constantly—to both negative and positive ends. As creatives, it appears to me that we use our practice to both construct and bring into question our identities. At the same time, our output cannot escape the trappings of our gender, sexuality and body. This course facilitated self-reflection whilst feeding into a larger consciousness/history/body of work that speaks to collective experiences (of feminism, womanhood, queerness, the body, etc) since the 1960s. Through the course I discovered shared experiences with the figures we encountered and with fellow students, fortifying a sense of connectedness. At the same time, investigations into the nature of the practice/identity nexus highlighted for me the performativity of identity and its inherent contradictions.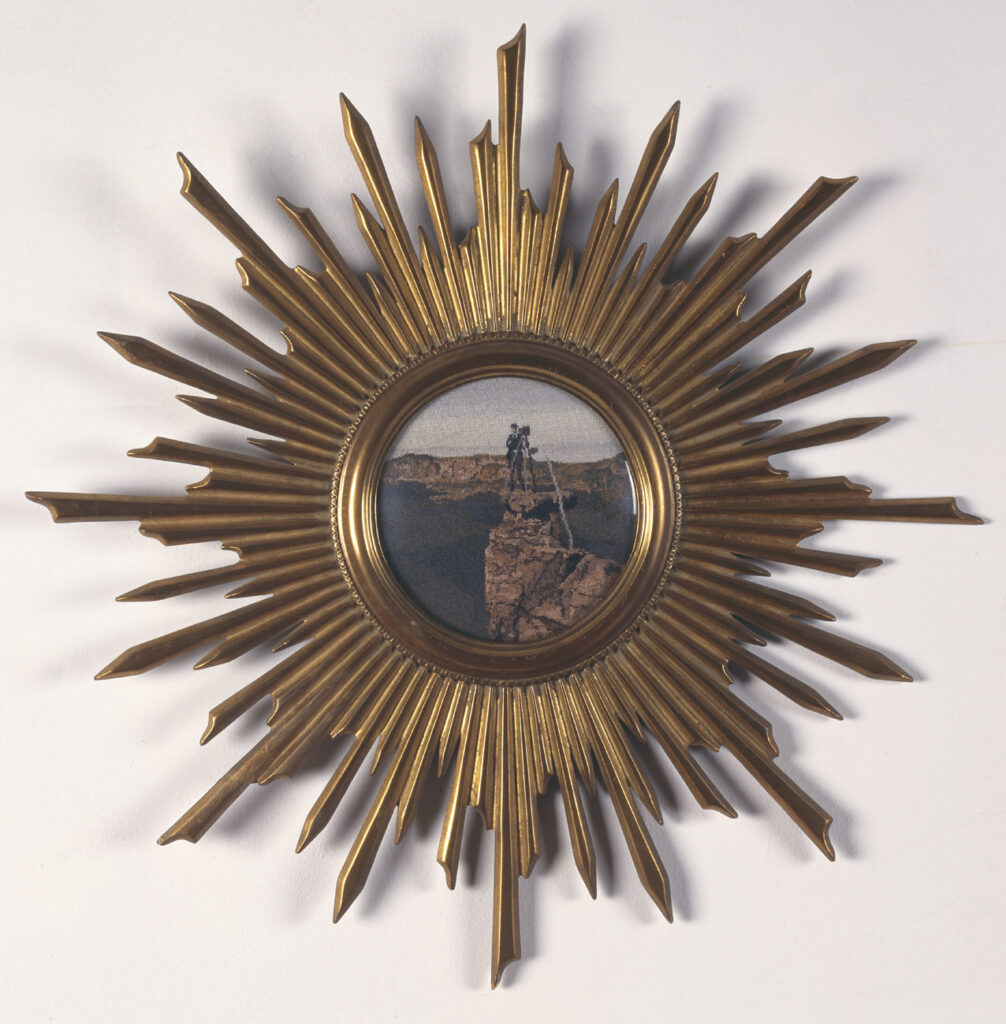 Narelle Jubelin, Self portrait 1990, petit point in tramp art frame,13 x 18 cm (sight), 31 x 26 cm (frame), CCWA 370, Courtesy the artist and The Commercial, Sydney
How did the Activist Essay come about?
Louise: I was fortunate to teach Art, Gender, Sexuality & the Body while at UNSW Art & Design with Professor Susan Best. When the opportunity arose to teach it again at QCA, I knew that I wanted to spend time updating it, interweaving the feminist principles of art history with my feminist principles in pedagogy. I wanted my students to do more than learn about feminism; I wanted to help them in doing feminism.
I encountered the idea of using Wikipedia in the classroom while trawling Twitter early in the year. The concept immediately piqued my interest. I recognised the potential for bringing together the affirmative action of Wikipedia's annual Art + Feminism events—which dedicate the month of March to training more women editors and generating more articles on women artists—with the research and writing skills at the heart of any assessment. I was excited by the opportunity for students' work to reach beyond the classroom and I was keen, as an Australian-specialist teaching Australian emerging artists, to focus our efforts on local artists.
Can you explain the Activist Essay?
Sunday: We were tasked with using Wikipedia as a conduit for affirmative action against the under-representation and under-documentation of Australian women artists in art history. Working in pairs, we chose an artist from the Cruthers Collection and collaborated to develop or create new Wikipedia pages for them. Leading up to this assessment, we were asked to critically analyse an existing Wikipedia biography on any woman or non-binary artist. This allowed us to familiarise ourselves with this different mode of writing, but also showed how gender in/equality permeated Wikipedia. We were able to identify how these disparities within the art world fail to appropriately acknowledge the contribution women and non-binary artists have made alongside their male counterparts. This made the Activist Essay a much more important and useful tool for us and the global audience Wikipedia caters to. Through this exercise, our impact was made measurable. We increased women's representation in art history and we also contributed to reliable and scholarly information on Wikipedia.
What were your first impressions about using Wikipedia for the Activist Essay?
Sam: During class discussions we talked about our impressions and assumptions regarding Wikipedia. Many of us had been cautioned not to use Wikipedia as a reliable source throughout our education because it is a democratised encyclopedia that anyone can edit. On the other hand, many students didn't feel authorised to contribute to Wikipedia. We assumed that the average editor was male (correct) and an expert in their area of contribution (incorrect). Some of us hadn't edited before because we didn't have time, while others avoided editing because of the male dominance of the site. Although there are drawbacks to Wikipedia, the benefits of using it as an assessment tool became clear. We were given the chance to actively change Australian art history. Contributing to the under-representation of women felt like a fitting assessment for this course on women's historical and ongoing in/equality.
Tell us more about the role of the Cruthers Collection in the project?
Sidonie: Louise introduced us to the Cruthers Collection as another example of affirmative action. She asked us to choose an artist from the collection for our Wikipedia articles. Using the Cruthers Collection was a method for establishing clear parameters for this assessment. The collection is dedicated to Australian women artists, all of whom are respected and established practitioners, so we knew our chosen artist should have a reasonable amount of information that we could access. It provided us with a selection of some of the most interesting and important artists of the past century.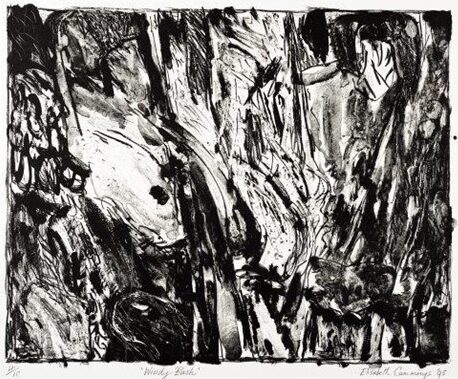 Elisabeth Cummings, Windy bush 1995, lithograph, edition 8/10, 45 x 58 cm, CCWA 894c, Courtesy the artist and King Street on William, Sydney.
My partner Sophia and I chose painter Elisabeth Cummings, known for her abstract landscapes inspired by the Australian bush. Sophia was drawn to Cummings because she recognised her as a fellow painter following abstract impulses. Other artists selected included Vivienne Binns, Dorrit Black, Joy Hester, Fiona Foley and Mary Macqueen.
During classroom discussions about the project, we encountered the notability issue. One of Wikipedia's requirements for an approved article is that the subject be suitably "notable". This means that they need to have a good number of published sources on them, enough to justify public interest. For women artists, this is a significant hurdle, as they are under-researched and under-published in comparison to their male contemporaries. This is where the Cruthers Collection was particularly useful, ensuring that we were selecting from a generous pool of artists, all significant enough to satisfy Wikipedia's notability requirements.
In the lead up to the Activist Essay, you reviewed existing Wikipedia artist biographies. What were your takeaways?
Julia: In the lead up to writing our entries we each reviewed existing Wikipedia pages of women and non-binary artists. It became clear from this process that many significant artists are missing pages while those that do exist are lacking in quality. We noticed the tone of the articles representing women and queer artists is sometimes markedly salacious; a focus on personal information pertaining to the sex-lives and family affairs of these artists comes at the cost of pertinent details regarding their practice. Evidently such artists are considered in terms of their gender and sexuality before their roles as notable creatives. By contrast, the Wikipedia entries of male artists we encountered are comprehensive and focused on their creative practice. The addition of personal information in their case served to further a sense of mystique and substantiate the potency of their lone male genius mythology. For example, fellow classmate Kit Syvret compared the pages of artist couple Elaine De Kooning and Willem de Kooning, finding the extramarital affairs of Elaine more extensively documented than her husband's. A comparative glance at Talk pages (a back-end forum space) further reveals a disparity between the desolate discussion spaces of artists such as Gluck and Fiona Foley, and the passionate discussions taking place on male artist pages such as Jackson Pollock. As a preliminary activity, this review process highlighted the imperative of our Activist Essay. It solidified the importance of contributing gender-neutral, credible and fact-based writing to Wikipedia.
What was it like writing for Wikipedia?
Sidonie: Writing for Wikipedia was initially daunting due to my preconceived notions about the role of a Wikipedia editor. I assumed that a Wikipedia contributor needed to have a very high level of knowledge and access to cover a topic, when in reality, you only need enthusiasm and a willingness to research. I also observed during the writing process that content on other artists' pages was often lacking. Many artists that I considered heavyweights of the artworld had shabby pages. Wikipedia has always been a starting point for me when researching for assessments, it functions as a wonderful way to get an overview of information. This put in perspective for me the ways in which Wikipedia is taken for granted despite being a resource we all regularly use. It also made me realise a casual artist Googler, like myself, is often unaware that the information they encounter on Wikipedia may be out of date, missing key information, or written in gender-biased language. Our relationship to Wikipedia is such that we don't normally flag issues with a page, whether information is missing, irrelevant or wrong.
When I began editing my page I found it remarkably easy to follow the Wikipedia format, especially once I abandoned the idea of writing an essay. Wikipedia's back-end works so that the writer can follow a template, which means all of the hard work is in collecting relevant, credible and useful research. Further, the referencing tool takes all the effort out of referencing. It's much easier than writing an essay.
Julia: This task required us to move beyond online research. For many of us, research involved using anthologies for the first time, accessing library archives, watching documentaries available only through subscription, reviewing small run publications, long out-of-print feminist magazines and trawling through exhibition catalogues. Evidently, information on Australian women artists is hard sought. One of the hopes of this project is to rectify this. By establishing credible Wikipedia pages for the women artists involved in this project, we aim to play a role in redressing omissions in Australian art history. The presence of a quality, fact-based Wikipedia page for these artists solidifies the notability of their practice and serves to legitimise their place within Australian art history. These women are now searchable and present, instantly more accessible than they were before the Activist Essay.
Tell us about your artist/article:
Michael: Julia and I wrote about Fiona Foley, one of Australia's foremost Indigenous artists. Foley has been practicing since the mid-1980s in a wide range of media, connecting with her Badtjala heritage and frequently incorporating biting political commentary. I find the story behind her 2004 public art installation Witnessing to Silence particularly inspiring. The work incorporates a list of places throughout Queensland which, she told the commissioning body, were the sites of natural disasters—fires and floods. Once the work was securely installed, Foley revealed its true meaning: the sites were those where Indigenous Australians were massacred, their remains subsequently burnt or submerged. The work still stands outside the Brisbane Magistrates Court, indelibly memorialising those lost and quietly holding the settler colonial judicial system to account.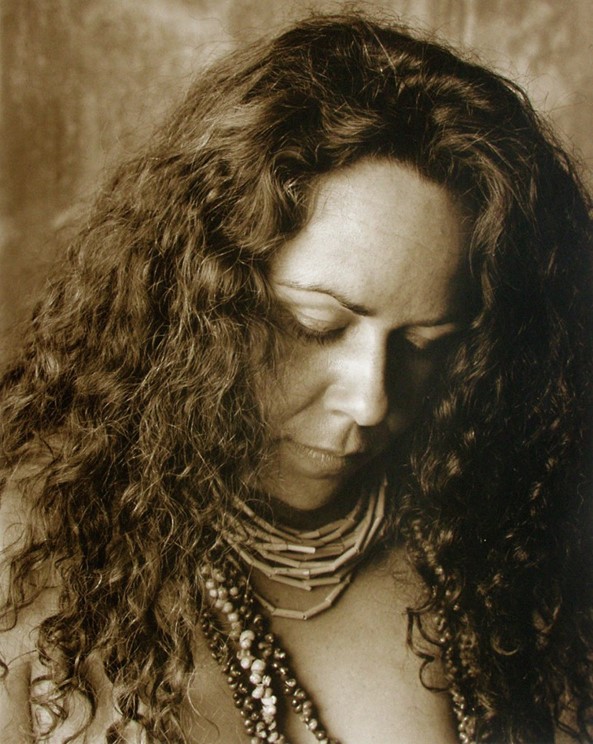 Fiona Foley, Native blood, 1994, type C photographs (set of 3), 50 x 41cm (3 parts). CCWA 895. Courtesy the artist and Niagara Galleries, Melbourne.
Despite Foley's achievements, her Wikipedia article was piecemeal. It was largely copied from press releases and artist statements. To update it we used scholarly sources including a monograph, an Oxford encyclopedia, catalogue essays and journal articles to cover her career and many of her major works. We learned that Foley surged to prominence in the second year of her studies at the Sydney College of the Arts (SCA), Sydney University, when her sculpture Annihilation of the Blacks (1986) was acquired by the National Museum of Australia. We found major public works in each of Australia's east coast capitals, such as Edge of the Trees (with Janet Laurence, 1995) in Sydney, Lie of the Land (1997) in Melbourne and Witnessing to Silence (2004) in Brisbane. Her public works have continued, with newer commissions in North Queensland. Additionally, Foley exhibited in the Koori '84 group exhibition, which was crucial in raising the profile of contemporary Australian Indigenous art. Following this, she helped co-found the Boomalli Aboriginal Artists Cooperative. Prior to our edits, her article contained little of this important information, even less of which was correctly cited.
Sam: Sunday and I chose to expand the article of Melbourne artist, Joy Hester. Hester was one of the first woman artists acquired by Sheila Cruthers. She was the only woman member of the Angry Penguins movement and was part of the Heide Circle alongside Sidney Nolan, Arthur Boyd and Albert Tucker during the 1940's and early 50's. Hester had an expressive signature style with particular focus on emotion and narrative. She worked almost exclusively in watercolour and ink, a unique choice of medium during a period that strongly favoured oil painting.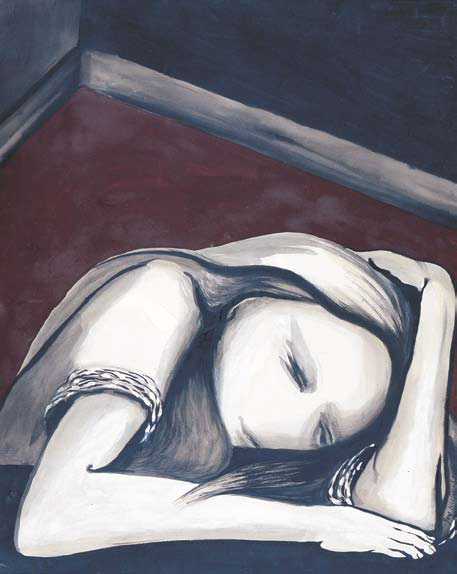 Joy Hester, Girl in corner 1957, Brush and ink, gouache, 63.5 x 50.8 cm, CCWA 180, © Joy Hester/Copyright Agency, 2021.
The Wikipedia biographies on Hester's male contemporaries were vast, with lots of resources, updated research and "great, male, artist" language. Hester is the subject of a posthumous biography and feature-length documentary, however little of this information was accessible online. Hester's existing Wikipedia page was poorly structured with limited information regarding her artistic practice, ranging from basic information to sensationalist hearsay with few substantial sources throughout.
We were delighted to discover that in 2020 the Heide Museum of Modern Art was hosting a major survey exhibition of Hester's work, acknowledging her place in the Australian art canon and bringing more visitors to Hester's Wikipedia page. Our expanded article has already been viewed over 2,800 times.
What were the outcomes?
Louise: Students published their Wikipedia articles in an 'upload party' two weeks after our final class with encouragement from me and expert assistance from Wikipedian Professor Kerry Raymond, who kindly volunteered her time. The three-hour assessment zone resembled a good study session: filled with conversation, laptops and food. The first pair of students—Safron Ealdon and Margot Stewart—published their article on Narelle Jubelin three-minutes into the party to a round of applause, and then remained typing away at their computers, embedding their new text into the web of Wikipedia. At the end of the upload session, 37 students had contributed to Wikipedia, developing 13 new and 5 expanded biographies for artists from the Cruthers Collection. Together they typed 48,800 words and added 684 references. To date, their articles have garnered a staggering 700,000+ views! The full statistics and all of the articles can be accessed via the Wikipedia dashboard.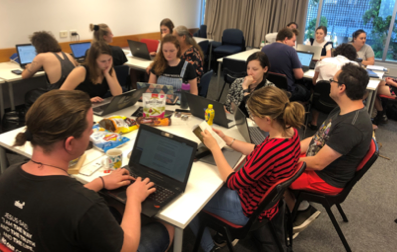 2431QCA Art, Gender, Sexuality & the Body students at the Wikipedia Upload Party, photo Louise R Mayhew.
At the close of the project, what are your final thoughts?
Julia: This project has helped me resist the ease of falling back on the grandeur and romanticism of Modernist narratives. An art history that focusses predominantly on white, heterosexual, male artists to the exclusion of most (including anyone who looks like me) requires re-writing to include the stories of queer women and women of colour. For me, rewriting art history coincided with my research on Gluck and Fiona Foley. With so much unwritten and uncelebrated about Gluck, a non-binary artist of the 1920's, I have considered postgraduate research on their practice and plan on expanding their lacklustre Wikipedia article, which currently pays no mind to their innovations in interior and product design. The overall effects of the frank and informed in-class discussion, self-reflection, collaborative research and collective academic activism that this course entailed has endowed me with a new, liberating sense of confidence; one that spurs me to continue pursuing cultural change in whatever way I can—both through artistic practice and academia.
Michael: It was heartening to undertake feminist direct action through writing for Wikipedia. Structural imbalances so often feel utterly overwhelming. When there are so many injustices being done, in so many places, with such ubiquity, it can be hard to know where to start. Wikipedia is a good place. I feel this project has been a means of claiming activist agency; a means of empowerment to contribute to the slow, incremental work of progress. These feelings can be vanishingly rare in the midst of late capitalist malaise, but they are all-important. I also think its pertinent to look to Wikipedia in the age of platform Capitalism. While social media platforms dominate web traffic and generate exorbitant profits on the basis of user-generated content, Wikipedia continues to be by the people and for the people.
Sam: When we published our article, Sunday and I were elated to have had the opportunity to contribute to the legacy of Joy Hester and her extraordinary body of work. I have been inspired by this assignment to continue participating in Wikipedia editing and the Art + Feminism Wiki events, recently working to expand Judy Cassab's page. The assessment has motivated me to focus on the practice of women and marginalised groups, and to continue examining the ways in which they are framed as I move through my degree and into possible postgraduate studies.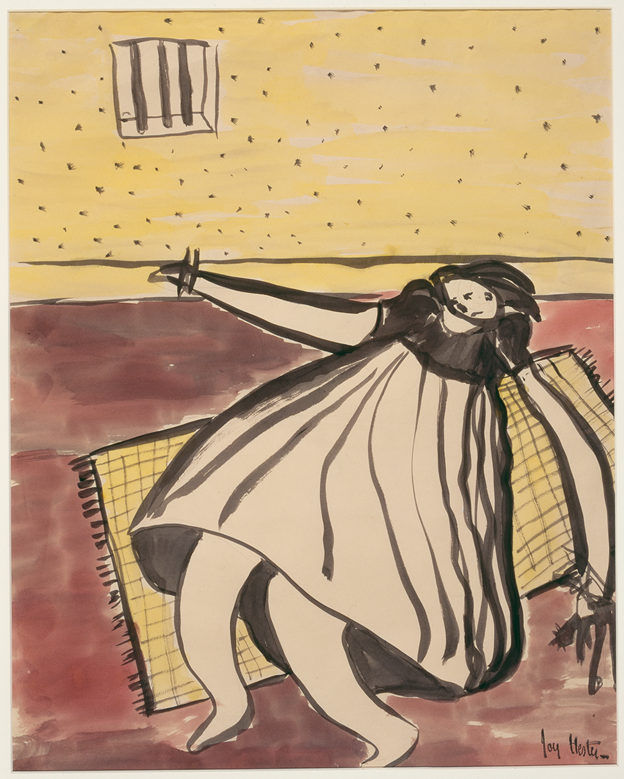 Joy Hester, (Figure with doll) c1948, watercolour, 48 x 38.5 cm, CCWA 406, © Joy Hester/Copyright Agency, 2021.
Sidonie: Something pertinent that struck me early on is that when you Google "great Australian artists" the first eleven suggestions are men, even after Margaret Olley had her blockbuster retrospective at the Gallery of Modern Art (GOMA). The good news is that I find myself newly inspired to contribute to Wikipedia. During the upload party I also edited a large section of American artist Kara Walker's page, which was great fun.
Sunday: It was truly fulfilling to be able to have our university assessment, usually only seen by our assessor, become part of a globally accessed network of information. The Wiki project and QCA course have given me insight into how my own artistic practice intersects with the feminist strategies of collectivism and craft. It has made me more confident and empowered in my exploration and subversion of high art and the canon. I came away from this experience with a new appreciation for the influence of Australian women artists, whom I hope we were able to pay genuine homage to.
Louise: Teaching the Activist Essay was—without caveat or hesitation—the most rewarding teaching experience I've ever had. Materially, new and expanded articles on Australian women artists now exist on Wikipedia. Pedagogically, students were genuinely incentivised to improve their research, writing and digital literacy skills. They moved beyond the laptop, visiting off-campus libraries for the first time, poring through out-of-print publications held in private collections, writing and re-writing their articles knowing that they would be heavily reviewed by Wikipedia editors and then read by innumerous Googlers around the world. They gained new, or bolstered, appreciation of women's under-representation in the arts and developed the desire, confidence and strategies to work collaboratively towards gender equality from within and below. This collaboratively designed, written and edited conversation, the product of multiple discussions and a very early meeting one Sunday morning speaks to their (re)new(ed) skills and engagement. I am so proud of them, and excited to see the places they take their practice and their activisms.
Acknowledgements
This course would not have been possible without Henry Cook, L&T Support, Griffith University; A/Professor Jane Haggis, College of Humanities, Arts and Social Sciences, Flinders University; and Professor Pru Mitchel, Wikimedia Australia, who provided collegial encouragement and expert advice on designing the Activist Essay; and Professor Kerry Raymond, Wikimedia Australia, who provided face-to-face advice and encouragement to all of the students as they published their Wikipedia articles. The course redevelopment was supported by an AEL (Arts, Education & Law) Griffith University Teaching Development Grant.