Sheila's Champions Donor Circle provides funds for the purchase of new works by younger and mid-career artists to be added to the Cruthers Collection of Women's Art at UWA. One of the artworks under consideration is Sera Waters' Survivalist Sampler 2019-20.
Sera Waters is an Adelaide based artist, arts writer and academic. Since being awarded a Ruth Tuck Scholarship in 2006 to study hand embroidery at the Royal School of Needlework (UK), her art practice has been characterised by a darkly stitched meticulousness. Her embroideries and hand-crafted sculptures dwell within the gaps of Australian histories to examine settler colonial home-making patterns and practices. She is represented in the Cruthers Collection by several works made from 2007 to 2013, including a commissioned self portrait. This proposed purchase allows the Collection to update her representation with a current work made on the cusp of the COVID-19 pandemic.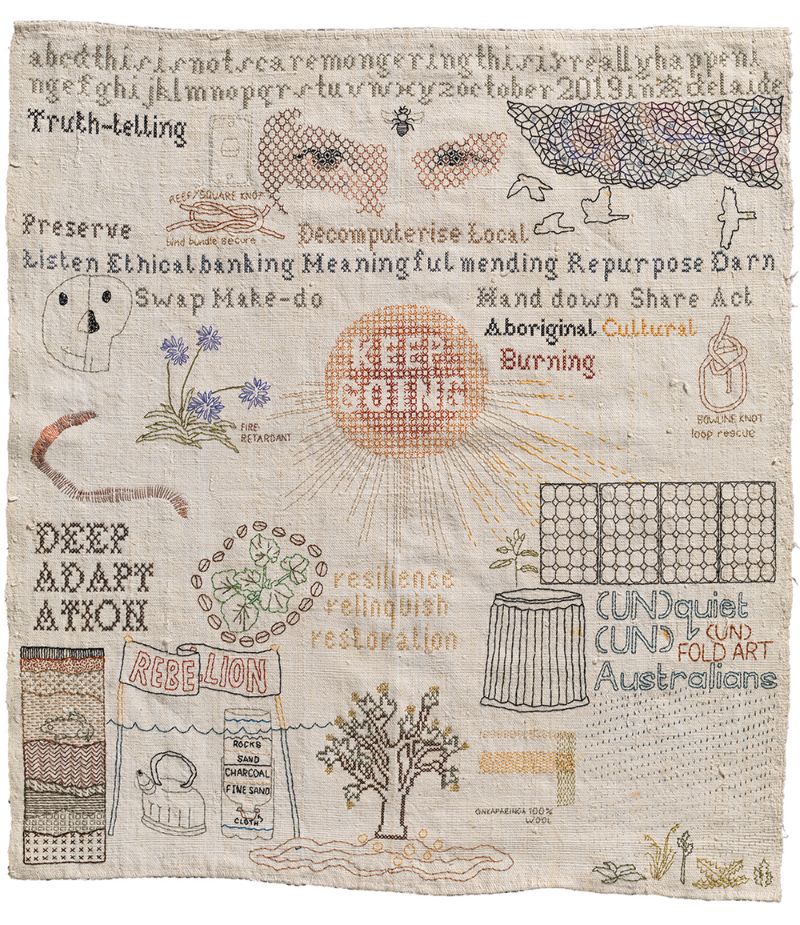 Sera Waters, Survivalist Sampler, 2019-2020 Cotton, glow-in-the-dark thread, found materials on repurposed linen, 45 x 42 cm, Courtesy the artist and Hugo Michell Gallery, Adelaide.
Survivalist Sampler:
Sera Waters explains the inspiration for Survivalist Sampler:
"When heading into an uncertain future, if apocalyptic narratives can teach us anything it is that infrastructure breaks down rapidly in major emergencies and it would pay to be prepared. In an almost entirely digitised existence, when we can no longer access masses of data we will rely upon information stored in other ways; in books, in each other's expertise, and perhaps even in samplers. Historic samplers survive from as long ago as the fourteenth or fifteenth century, outlasting their makers by hundreds of years and preserving important information about how they lived. My sampler too records events unfolding rapidly in this era of the Anthropocene, and particularly documents information about how to physically and psychologically adapt; for example, the ingredients required for a water filter, life-saving knots, to maintaining Greta Thunberg's focussed intent. It importantly also fulfils the role samplers played traditionally, of being a database of basic stitch techniques and fundamental skills required for making, mending and working with cloth for when we will need to do this work by hand for ourselves. Survivalist Sampler is an aesthetic cacophony which mirrors the masses of information we are currently living with.
"This sampler marks the beginning of an ongoing project, individual and collaborative, to collect useful data for going forward and adapting to a different future. Samplers were problematically used to educate girls into obedience in the nineteenth century, perhaps in the twenty-first they can offer some solace." – Sera Waters.