Aline Cusack, born in 1867 in New Zealand and brought up in Newcastle and Sydney, was a prominent professional Sydney-based artist who worked from the 1890s to the 1930s. Her sister Edith E. Cusack was also a successful artist and the pair were well known as the Cusack sisters. They had numerous exhibitions together of a wide range of paintings and also shared a studio at the Palings Building. Newspaper reviews from the time marvel at the talent of the pair. In 1908 The Sydney Morning Herald reported that 'the varied talents of the exhibitors have enabled them to show figures, landscapes, flowers and animals' and noted that over 100 works were included in the exhibition.
Edith Cusack, Aline Cusack, 1896, oil on canvas, 30.5 x 23 cm.
It is likely the Cusack sisters worked as artists in order to support their family, as their father Samuel Athanasius Cusack died of tuberculosis and left the family in poverty. It was common for women to work as artists in order to support their families in the 1890s. There was an economic depression which put many into severe financial difficulties, and all additional means of obtaining income were important.
The sisters' work was also included in the Exhibition of Australian Art in London in 1898 at the Grafton Galleries, alongside many well-known male artists including Arthur Streeton and Frederick McCubbin. In the Art Gallery of NSW collection there are two portraits of Aline Cusack made by Edith Cusack in the 1890s. Aline, one of the portraits, was included in the 1898 London exhibition. The catalogue of the exhibition, available online, enables us to see that Aline Cusack exhibited two works, both maritime subjects: A grey day – Darling Harbour, Sydney and A rising gale. Other international showings of Cusack's work included an exhibition at the New Zealand Academy of Fine Arts in 1905.
Aline Cusack, like her sister Edith, studied with and worked as an assistant art teacher for Joseph Bennett in Parramatta. She and her sister also taught art from their studio at the Palings Building and ran outdoor landscape painting classes which were popular with women artists in Sydney.
Aline also studied under Gordon Coutts at the Royal Art Society School, and in 1898 was awarded the School's President's Prize and the Hanson Prize. In 1906 she travelled to Europe to study at London's School of Animal Painting (1906–1907) under Frank Calderon, and at Academie Colarossi in Paris.
She was a member of the Society of Artists of NSW, the Strathfield Ladies Sketch Club and The Painting Club (a well-known club of women artists in the 1890s), and a prominent member of the Royal Art Society where she served on its Council and Exhibition Committees. In 1910 she founded the Society of Women Painters with Lady Chelmsford, which included 'virtually every woman artist of note who painted and exhibited in Sydney'.
Cusack served as the society's Vice President from 1910–12, on its Council in 1913 and as Honorary Treasurer in 1914. In 1914 she travelled with Edith to study art in the UK. However, the sisters arrived in London on the 6th August, two days after England had joined the war. They both assisted with the war effort in England and France as war workers for Anzac Buffet London and as ward orderlies for the British Red Cross until the end of the war. In 1916 they ingeniously arranged for themselves and other women from a university to pick strawberries in order to assist with labour shortages due to the war, with the strawberries sold at market and their wages given to the Red Cross Society.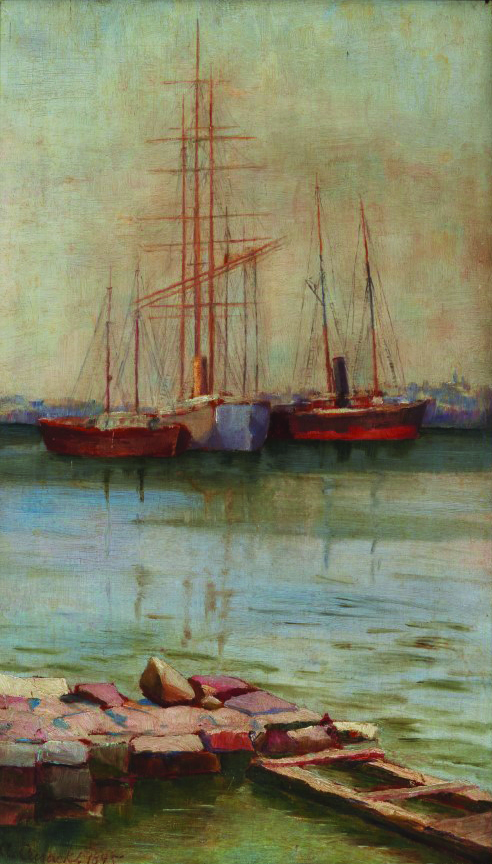 Aline Cusack, Moored ships, Darling Harbour 1895, oil on panel, 41.5 x 24 cm. Into the Light Collection, Sheila Foundation.
Cusack's work Moored ships, Darling Harbour, 1895 is a work that subverts the assumed genres of women's art of the period. Neither a figure painting nor a still life, it is instead a seascape. Similar scenes of working harbours were painted by male artists such as Tom Roberts and Frederick McCubbin but were relatively rare for women artists. Its small physical size, 41.5 x 24 cm unframed, suggests it was probably painted en plein air. The work carefully documents the moored ships in Darling Harbour and gives a glimpse of the working harbour in 1895.
The painting can be seen in relation to her sister Edith Cusack's Darling Harbour 1896 which is held by the Newcastle Art Gallery. It is possible the sisters created these two works together as the two paintings have similar details. Aline Cusack's painting was created when she was 28 years old and prior to her travel overseas to study art in the UK and in Europe. According to a label attached to the back of painting, Cusack had only started exhibiting art in 1894 and was 'already developing an interesting style and technique'.