Into the Light: Recovering Australia's lost women artists 1870–1960 is Sheila Foundation's national research project to collect data about women artists working professionally in Australia whose work may have slipped from view.
The data will be made available to researchers, art historians, curators, artists and collectors via an online portal. We hope this will lead to research, exhibitions and publications that reconsider women's place in Australian art and allow their stories to be seen and their voices to be heard in our art museums and art histories.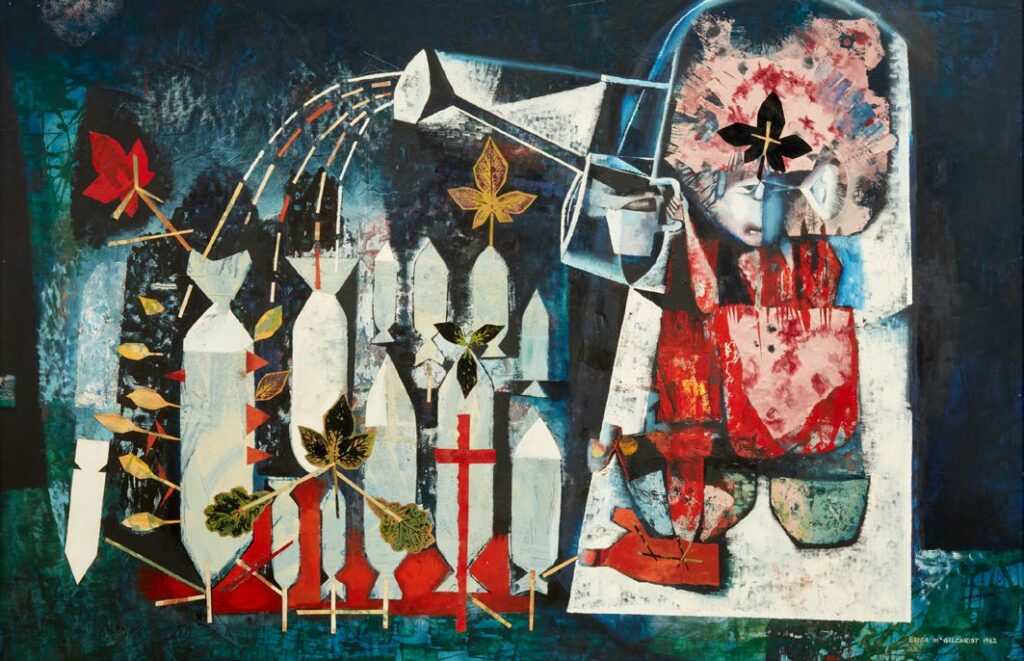 Erica McGilchrist, Specialist with hobby 1962, oil and collage on paper on hardboard, 92 x 129 cm. Into the Light Collection, Sheila Foundation.
In 2016–17 Sheila conducted a pilot study for Into the Light focusing on women artists working in NSW from 1870–1914, a time period in which women's art has been little studied. Managed by art historian Dr Juliette Peers, the pilot study uncovered a staggering 434 women artists, only a fraction of whom are on the public record.
The project's acquisition fund, supported by the Into the Light Donor Circle, purchases artworks by artists uncovered by the program or known to us from previous research. In time it will become a major reference collection of artworks by generations of little-known women artists.
The first purchases were made in July 2019 at an auction of the collection of David Angeloro, one of Australia's most committed long term collectors of women's art. Among the group was a delightful self portrait by Elaine Coghlan, who studied in Sydney in the late 1910s and went on to pursue a successful career, including several times being a finalist in the Archibald Prize. Other late 19th century/early 20th century artists whose works were purchased included Aline Cusack, Annie Potter and Alice J. Muskett, and mid 20th century artists Gladys Gibbons, Edith Wall and Erica McGilchrist.
Being painted by largely unknown artists and therefore considered of little value, many of the works purchased were in poor condition and required significant conservation treatment and framing to bring them back to something like their original condition. At the same time as the artworks were undergoing treatment, Sheila Foundation intern Alexandra Mitchell researched six of the artists and prepared a biography of each and notes on the work purchased. Eminent art historian Dr Juliette Peers wrote on the seventh artist, Elaine Coghlan, and her essay is notable for its considered exploration of the issues around appraising the work of little known and outlier artists.
We are proud to present this summary of the works purchased and look forward to adding to it every year. Thank you to our inaugural Into the Light Donor Circle members who have enabled the acquisitions and research. We welcome more members of the Circle to help us continue this work.