Salote Tawale, I don't see colour exhibition at PICA. Photo by Bo Wong.
THE MICHELA AND ADRIAN FINI ARTIST FELLOWSHIP
Sheila Foundation Board member Michela Fini and her husband Adrian have pledged a donation to Sheila to launch a unique annual Fellowship that will support women artists and arts institutions.
This is a responsive, focused annual program that will support the development of new work by contemporary women artists at a critical juncture of their career, whether they be emerging, mid-career or senior artists, and assist in the presentation and documentation of the work at a contemporary art space. Applications are accepted from Contemporary Arts Organisations Australia member organisations, partnering with a woman artist of their choice.
NATALYA HUGHES
"I was never enthralled by that thick, expressionist painting style in the same way that other people seem to be; I've always been a very flat, neat painter' … 'I was drawn to [de Kooning and Kirchner] not because they have a decorative aesthetic … [but] because I wondered what would happen if I brought that aesthetic to [the same subject]. Those artists would have loathed me to do that, I'm sure."
Natalya Hughes painting, The After Party.
Natalya Hughes (2022)
The Sheila Foundation has awarded the 2021 Michela and Adrian Fini Artist Fellowship to Brisbane-based artist Natalya Hughes to support her to create a body of new work for her forthcoming solo exhibition 'The Interior', to be held at The Institute of Modern Art, Brisbane between 30 July – 1 October 2022.  
"I'm so grateful to receive the 2022 Michela and Adrian Fini Fellowship. It will me allow me to work in ways that are both more ambitious and more embracing of the risks and challenges that experimentation pose. It's so important to have that push to go further as an artist, and especially as female artist at this stage in my career," Natalya said. Read more
Salote Tawale (2021)
Sydney-based artist Salote Tawale has been awarded the inaugural fellowship, an opportunity that will allow her to create a body of new work for her forthcoming solo exhibition I don't see colour at Perth Institute of Contemporary Arts (PICA) in July 2021.
Fellowship recipient Salote Tawale said that being able to develop the project with PICA was an important part of the opportunity. "A huge thank you to the Sheila Foundation for supporting this exhibition and allowing me as an artist to develop this project with PICA beyond my original expectations." Read more
The Michela & Adrian Fini Artist Fellowship, presented by Sheila Foundation, is an annual fellowship to support women artists with $20,000 to realise new work in a Contemporary Arts Organisation Australia (CAOA) Member exhibition program.
CAOA members are invited between March – June each year to nominate an artist from their forward program of the following 12 months, whether in a group or solo show context, with an ambitious project to be realised with the funds. The artist may be emerging, mid-career or senior and must be an Australian resident and female-identifying.
Visit the CAOA website for list of the organisations.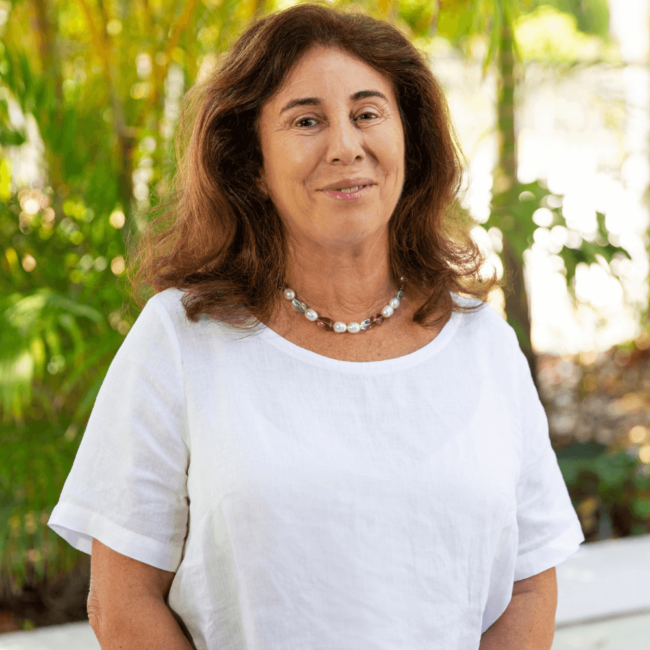 Michela Fini, Sheila Board Member